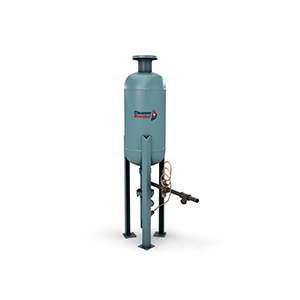 Blowdown prevents buildup of harmful solids in steam boilers
Blowdown helps maintain boiler water level safety controls
Built-in Aftercooler protects wastewater disposal systems
Compact Blowdown Separators -- ASME Section VIII 250 psig tank design
Blowoff Tanks for specific applications and ASME code requirements
Cleaver-Brooks model BDS blowdown separators and model BDT tanks use a safe, proven, economical flash purification process for facilitating blowdown effectiveness and disposal.
Product Overview
Related Resources
Applications
Safe, economical method to separate steam and water from boiler blow-off and high temperature condensate
Flash purification process safely vents clean steam to atmosphere
Reduces drain water temperature to meet state and local requirements
Quiet design, with noise levels below 90 dBA
Stainless steel striking plate extends separator life
Tangential inlet and high velocities promote cyclonic separation of steam and water
Self-draining, self-drying design
Proven performance, durable design, longer life
ASME "U" and "UM" stamp available
Available for any boiler capacity
Tank designs up to 1600 psig
Model BDS blowdown separators offer an effective and compact solution to safely dispose of boiler blowdown and other high temperature process streams, including deaerator overflow or high temperature waste condensate from steam traps or pressure relief.
Model BDT blow-off tanks allow boiler blowdown to accumulate in a larger tank and cool, mixing with the next blowdown and thereby reducing the need for additional cooling water. All model BDT blow-off tanks are sized and designed according to ASME Section VIII and National Board specifications.
Process Steam
Industrial Process
Building Heat
Sterilization
Humidification
Waste Heat Recovery
Hospital and Healthcare
Power and Utilities
Laundry and Dry Cleaning
Refineries and Petrochemical
Food Processing
Breweries & Distilleries
Pharmaceutical
Renewable Energy