CBH: Single wall special gas vent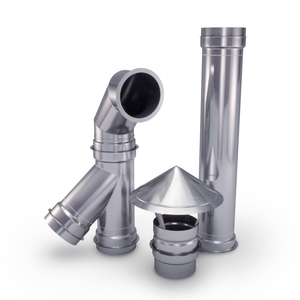 UL Listing:

UL 1777, ULC C-S635

Application:

Condensing Appliance

Boiler Category:

2, 3, 4

Operation Temperature:

550°F Continuous

Inner Wall:

316, AL29-4C

Inside Diameters:

6"- 48"
Male/female slip-type jointing system
Laser welding
Stainless steel material
Industrial, institutional and commercial application
The CBH model is a single-wall stainless steel liner suited for high efficiency appliances. CBH liners are suited for industrial, institutional and commercial applications.

Product Overview
Related Resources
Applications
Male/female slip-type jointing system
CBH and inner wall standard 316L or AL29-AC stainless steel (20 - gauge 6" to 40" diameter, 18 ga 42" to 48")
Full range of accessories including elbows, fittings guides and supports
Laser welded
Easy to assemble
Complete engineering
UL/ULc listed
CBH chimney liners are intended for use in masonry chimneys to vent Cat II, III & IV gas and oil fired condensing application appliances.
Process Steam
Industrial Process
Building Heat
Hospital and Healthcare
Power and Utilities
Refineries and Petrochemical
Humidification
Laundry and Dry Cleaning
Waste Heat Recovery