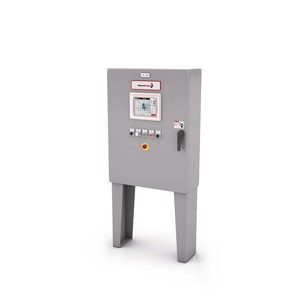 Lower fuel cost
Parallel positioning, full metering or single poin
Cutting edge combustion control logic in a user-friendly environment
Full configured including preset combustion parameters for easy commissioning from HMI
10" color touch-screen interface, PLC based
The Hawk 6000 package includes the same features and flexibility of the Hawk 5000, but engineered for total integration with the Cleaver-Brooks Configurable Watertube (CBCW) requiring single point positioning, parallel positioning or fully metered controls.
Product Overview
Related Resources
Applications
Fireye (CB120E) based integrated burner management system.
Allen-Bradley Panelview Plus 10" color touch screen HMI for setup, monitoring and data acquisition using latest display ergonomics.
Various screen size option with capabilities to mimic PLC screens to PC environment. Pre-configured and fully tested at our facility before shipment.
Commissioning tuning done from the HMI including our new fully metered fast setup procedure. ISA (International Society for Automation) standard used for symbol labeling of the HMI and documents.
Nema 12 Industrial grade enclosure (Nema 4 or 4X in option) wall-mounted or free-standing. NFPA 85 – 2011 or CSA B149.3 compliance
Professionally assembled and pre-wired internal components compliant with UL/CSA Standards for industrial control enclosure.
Supplied with a complete set of documents meeting the industry standards.
After sale support by factory control system engineer and/or Field service technician.
Training program available.
Economizer monitoring and control
This complete boiler control system meets institutional and industrial market specifications for North America standards. A simple and user-friendly interface provides access to the latest combustion control logics; benefiting from years of proven engineering experience developed for the petrochemical and utility markets. All commissioning can be performed through the HMI. Inputs and outputs have been pre-characterized to obtain linear response at all boiler loads and avoid tedious f(x) entries.
The result is unsurpassed performance when coupled with a C-B industrial burner system. All Hawk 6000 systems include Ethernet communication, first out and alarm history, local or remote steam demand and much more.
Process Steam
Industrial Process
Building Heat
Sterilization
Healthcare
District Heats
Food and Beverage
Chemical
Electronics
Rental Equipment
Pulp and Paper
Rotary Dryers