Cleaver-Brooks ProFire SBR-30 Series Burner Recognized for Engineering Excellence
THOMASVILLE, Ga. (August 1, 2021) – Cleaver-Brooks announces that its ProFire SBR-30 Series Burner was named a winner in the 2021 Commercial Comfort Products of the Year contest. Selected by a panel of independent consulting/specifying engineers, the burner series topped the Heating Equipment category.
The ProFire SBR-30 low-NOx, dual-fuel burner is capable of less than 30 ppm NOx emissions without flue gas recirculation (FGR). It features a unique firing head design to achieve controlled combustion, leading to low emissions with 3% O2. Advanced technology allows the SBR-30 to offer low-NOx, low CO emissions and up to 10:1 turndown on natural gas.
"A number of benefits are created by the removal of FGR," said Kevin Pheney, Cleaver-Brooks vice president of burner systems. "Eliminating the need for FGR in high-stack-temperature steam boilers will increase energy efficiency by 0.5-1.5%, extending the turndown and minimizing on-off cycling. In addition to being massive and space consuming, FGR pipes generate extensive energy loss in the boiler room. All of this can be eliminated by using the SBR-30 non-FGR solution."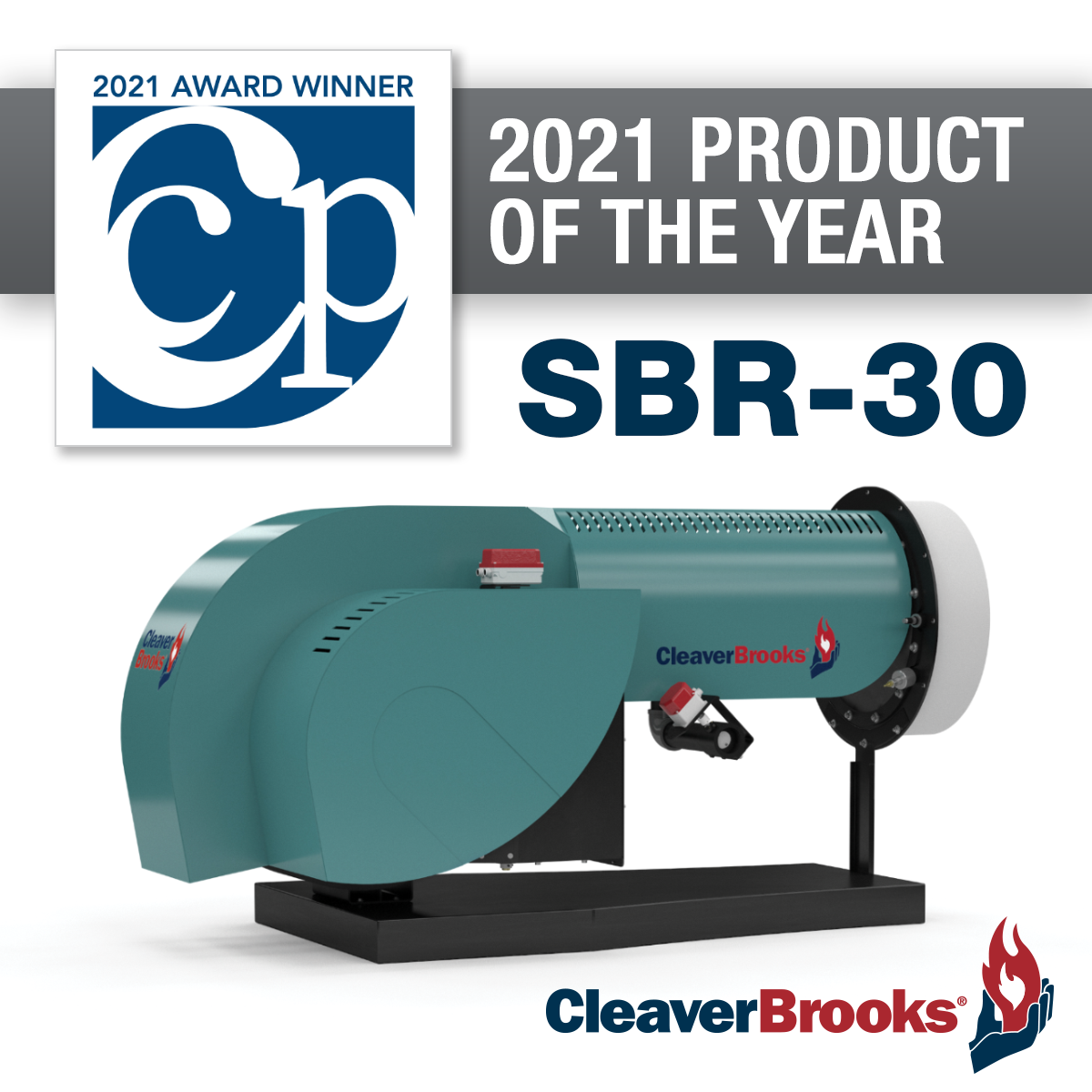 The burner provides silent operation with an advanced combustion air fan wheel that uses less horsepower with less noise. It is reliable and energy efficient and features the lowest NOx emissions and low excess air operation for high efficiency. If application condition is satisfied, it can be operated with 15% excess air across the operating range when firing natural gas, using less fuel per BTU and less KWH per BTU.
The SBR-30 is suitable for use with a variety of boiler types including firetube, flextube and industrial watertube boilers, as well as thermal oil heaters utilized in process steam, industrial process, waste heat recovery, hospital and healthcare, laundry and dry cleaning, and refinery and petrochemical applications.
For technical drawings or more information on the Cleaver-Brooks ProFire SBR-30 Series Burner, visit cleaverbrooks.com.
About Cleaver-Brooks
Cleaver-Brooks, a world-renowned provider of boiler room products and systems, is committed to providing solutions that meet the four cornerstones of successful plant operation: Safety, Efficiency, Reliability and Sustainability. As the pioneer of packaged firetube and watertube boilers, Cleaver-Brooks is the only manufacturer in the world to offer an entirely integrated boiler room solution for any size application. Its products are backed by a world-class representative network offering superior aftermarket service and solutions. Visit findarep.cleaverbrooks.com or call (800) 250-5883 for more information.
About the Contest
Engineered Systems' Commercial Comfort Products of the Year contest honors excellence in HVACR product design. The prestigious awards program showcases the most innovative products across eight categories. Entries are judged by a panel of independent consulting/specifying engineers selected by the publication's editorial staff.
# # #