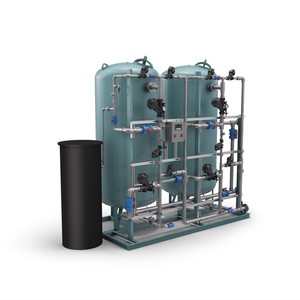 Steam and Hot Water Applications
Sized from 10,000 to 1,000,000 grains capacity
Flow rates from 2 to 500 gpm
Tank sizes range from 9" to 72" diameter
Compatible with all boiler applications
Dealkalizers can remove more than 90% of the bicarbonate alkalinity in a softened water supply. High alkalinity contributes to boiler foaming and carryover as well as excessive blowoff rates. Besides improving water chemistry in the boiler, lowering alkalinity reduces formation of carbon dioxide in the system, which is the major cause of condensate piping corrosion.
Product Overview
Related Resources
Applications
Cleaver-Brooks Dealkalizers are available in FRP plastic or carbon steel lined tanks designed to NSF standards. These Dealkalizer systems include twin alternating tanks with automatic controls to maintain a continuous supply of dealkalized water. A caustic injection metering pump and brine tank are also included as standard.
Process Steam
Industrial Process
Building Heat
Humidification
Waste Heat Recovery
Hospital and Healthcare
Power and Utilities
Laundry and Dry Cleaning
Refineries and Petrochemical