Modular Hydronic Boiler Skid
Skid Mounted Boiler Solutions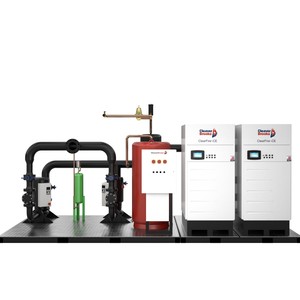 Pre-packaged and pre-engineered
Modular design for ease of installation
500-24,000 MBH capacities
1-8 boiler systems
Gas-fired (natural gas or propane)
Custom-engineered systems available
Cleaver-Brooks pre-engineered and pre-packaged, skid-mounted hydronic boiler solutions offer a simple solution to get up and running in less time, with less effort than traditional field installed systems. Single point piping and electrical connections, and robust skid design make installation simple and easy.
Product Overview
Related Resources
Applications
Our long history has taught us that one size skid-mounted system can't meet every need. Which is why we designed our ClearFire®-CE based systems to be adaptable while still being pre-engineered and assembled, offering you the lowest cost of installation and ownership. Combine up to eight boilers in a pre-engineered system. Additional boilers or accessories can be added as a custom-engineered solution.
Boiler: Our ClearFire-CE pre-engineered skid packages include the most efficient, compact, and easy-to-operate condensing hydronic boilers on the market. When looking at your hydronic system solution, do not overlook the importance of selecting the right boiler for the job. Select the combination of equipment to meet the application and redundancy requirements.
System Pumps: One, two, or three pumps (variable speed)
Hydronic Accessories selected and sized to suit the system requirements.
Building Heat
Office Buildings
Healthcare
Schools and Universities
Food & Beverage
Manufacturing
District Heat
Industrial Process