Duct Burner
Natcom® Engineered Solutions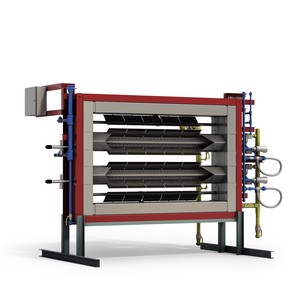 Input Capacity (MBH):

Up to 500,000

Turndown:

Up to 10:1

Emissions (ppm NOx):

<0.1 lb/MMBTU

Mode of Operation:

Single Fuel Firing

Fuel:

Gas, Propane, Special

Fuel Ratio Control:

Parallel Positioning

Environment:

Safe, Hazardous, Coastal
Steam applications
10 to 500 MMBTU/hr
Natural gas and propane
Available to <7 ppm NOx, <50 ppm CO
Supplements turbine in heat recovery steam generator (HRSG) applications
Cleaver-Brooks Natcom® duct burner technology ensures the lowest levels of NOx, CO, VOC, and PM emissions available, even in the most challenging service conditions. Cleaver-Brooks is the only duct burner supplier to offer a complete system with an innovative duct burner solution for the cogeneration and combined cycle markets.
Product Overview
Related Resources
Applications
Self-supporting, high-temperature stainless steel assembly eliminates common "element sagging" issues
An exclusive Retro™ fuel injection system enhances turbine exhaust gas (TEG) and fuel mixing for optimal flame control
Flame stabilizing system (with TEG staged cooling zones) assures reliable, low-emissions performance and extended burner life
Complete CFD analysis, design, and fabrication of TEG flow correction devices, including distribution grids, turning vanes, and anti-swirl systems
Our innovative flame stabilizer system with a two-zone fuel manifold generates uniform combustion and even heat distribution to fit any HRSG configuration. Cleaver-Brooks in-house simulation experience allows accurate and complete modeling of the turbine exhaust flow, distribution grid, combustion, heat recovery system, and selective catalytic reduction (SCR) performance.
Process Steam
Industrial Process
Building Heat
Sterilization
Humidification
Waste Heat Recovery
Chemical
Power and Utilities
Refineries and Petrochemical
Hospital and Healthcare