HxO Heat Exchanger
Hydronic & Steam Accessories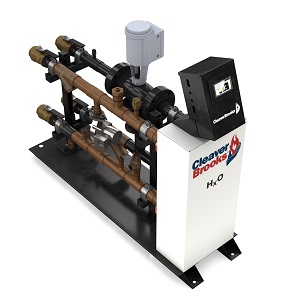 Ideal for packaged skid solutions or standalone installations
Ease of maintenance
Efficient operation
Anti-scaling circulator
Inlet strainers
3-way electro-hydraulic modulating valve
Full color touchscreen controller with PID set point control
Control system includes alarm contacts, data-logging and Modbus communication
The HxO is designed to provide instantaneous Domestic hot water supply to your building without the need for additional fuel fired or electric heating equipment. By utilizing your new or existing hotwater heating loop, the HxO will provide on-demand water for your system.
Product Overview
Related Resources
Applications
Ideal for packaged skid solutions or standalone installations
Ease of maintenance
Efficient operation
Anti-scaling circulator
Inlet strainers
3-way electro-hydraulic modulating valve
Full color touchscreen controller with PID set point control
Control system includes alarm contacts, data-logging and Modbus communication
The HxO is a packaged water heater solution that provides optimal energy control between a hydronic boiler loop and a (domestic hot water) DHW or process water. Heat is extracted from the boiler loop through a very compact and efficient heat exchanger and is transferred to the cold domestic water supply. Each HxO model has been designed for an application with the specific flow and temperature ranges on the process and boiler sides. The intelligent PID control maintains process outlet temperature within +/- 2° F of set point.
Process Steam
Industrial Process
Building Heat
Sterilization
Humidification
Hospital and Healthcare
Office Buildings