Fuel Train
Natcom® Engineered Solutions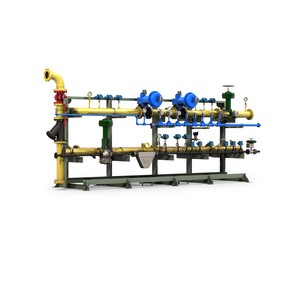 Natural gas, refinery gas, hydrogen, landfill, digester gas, tail gas, or other alternative gaseous or liquid fuels
Carbon steel or Stainless steel piping
Windbox- or rack-mounted
Main and zone trains for multiple burner applications
Cleaver-Brooks offers pre-assembled piping systems for a wide range of gaseous and liquid fuel applications.
Product Overview
Related Resources
Applications
NFPA 85, FM, CSA B149.3, ASME B31.1 or B31.3
Safety Integrity Level (SIL) and hazardous locations designs
Accommodation for addition of steam superheater.
Moisture removal management
Pressure-reducing stations
Gaseous fuel mixing station
Cleaver-Brooks provides fuel trains that precisely and repeatedly meter the fuel flow to your specific burner application. Our design team has in-depth experience with diverse fuel compositions, fuel supply conditions, and burner arrangements.
Process Steam
Industrial Process
Waste Heat Recovery
Hospital and Healthcare
Power and Utilities
Refineries and Petrochemical